What Did Adam Kovic Do? Is Adam Leaving Funhaus, Rooster Teeth?
Gaming YouTube collective Funhaus, managed by Rooster Teeth, has come under recent scrutiny for the actions of a couple of their employees. Both Adam Kovic and Ryan Haywood have been the subject of multiple accusations following a leak of their personal nude photos and other pornographic materials.
Since these accusations, Adam has basically deleted all of his social media accounts. What did Adam do and will these accusations result in him leaving Funhaus?
Is Adam Kovic leaving Funhaus?
Adam and his co-worker Ryan Haywood both recently had nude photos of them leaked online. According to some reports on Reddit, when the photos were initially leaked, they didn't gain much traction, though they were later reshared on 4Chan with allegations that these images were sent to minors and that the two Rooster Teeth employees were grooming underage fans.
Article continues below advertisement
That being said, there allegedly was no evidence provided that supported the claim that Adam and Ryan were sending these photos to minors, or pressuring underage fans to send them inappropriate images back. While the claims were initially made, no victims have come forward to make official statements, nor does there seem to be any other evidence suggesting they were grooming minors.
Article continues below advertisement
Despite this, though, some claim these images and even some NSFW videos suggested that Ryan and Adam were sending nudes and other pornographic materials to other people, bringing up allegations of cheating. Both Ryan and Adam are currently married.
Adam has set all of his social media accounts to private, and Ryan personally released a statement saying he would be leaving the company to "focus on rebuilding my family and life."
In a statement on his private Twitter account, Adam wrote, "This feels surreal to write, but as of today I'm leaving Funhaus. I can't tell you how grateful I am to have been a part of this group, and I'm sorry I've undercut its legacy with my stupid actions."
Adam went on to apologize to his coworkers, friends, and wife for "having to deal with the mess I've created." 
Article continues below advertisement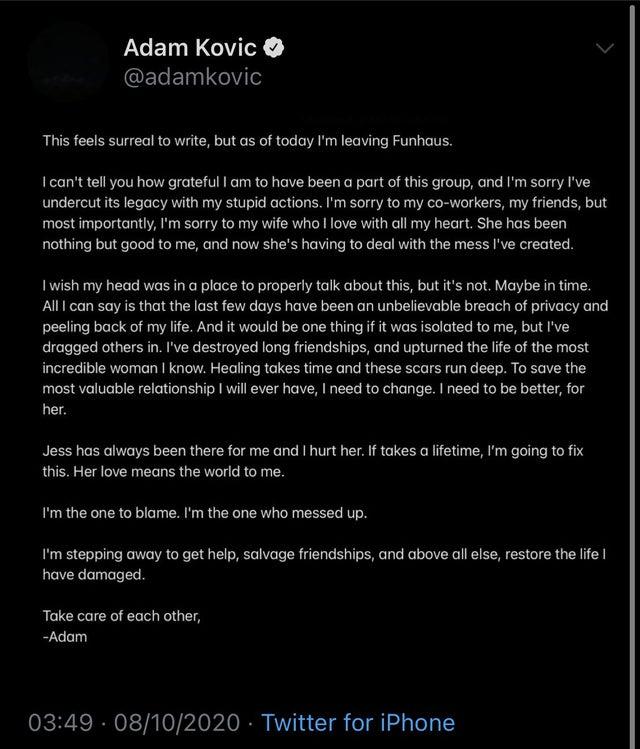 Rooster Teeth announced that they would be removing two employees from their roster after deleting all traces of Adam and Ryan on their website, not mentioning Adam and Ryan specifically.
"Our Code of Conduct is meant for everyone in our community to follow and that includes our staff and anyone who works or partners with Rooster Teeth," the company tweeted. "We have parted ways with two employees whose conduct did not reflect the values we strive to uphold in our Code of Conduct."
Article continues below advertisement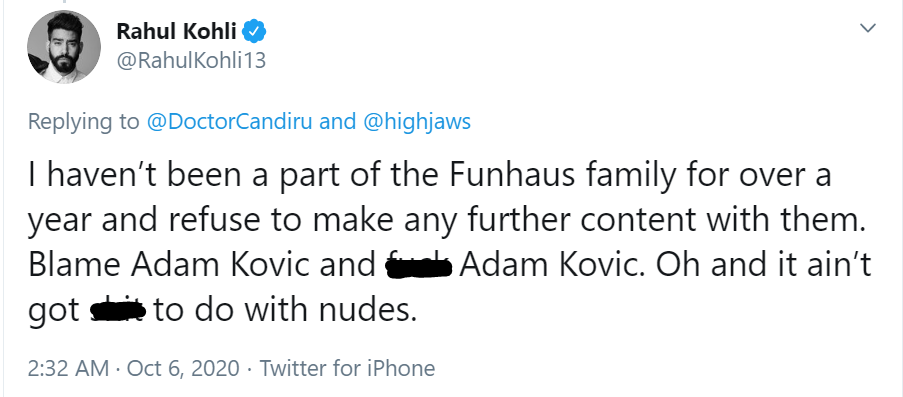 Article continues below advertisement
Former Funhaus guest Rahul Kohli also has some beef with Adam.
Rahul was a guest with Funhaus for years but recently revealed on Twitter that he silently left the group more than a year ago — and has some personal beef with Adam.
In a reply asking if he was ever going to visit Funhaus again, Rahul simply responded, "Lol. No."
"I haven't been a part of the Funhaus family for over a year and refuse to make any further content with them," he clarified in a follow-up tweet. "Blame Adam Kovic and f–k Adam Kovic. Oh and it ain't got s–t to do with nudes."
The actor refused to elaborate further on their beef, though he later shared a screenshot showing Adam had blocked Rahul on Twitter.
"Ask your boy," he captioned the photo.
Whatever happened between them, it's clear Rahul did not leave the Funhaus group on good terms, though none of the mentioned parties have chosen to comment further on it.



View more information: https://www.distractify.com/p/what-did-adam-kovic-do
Articles in category:
Wiki