Scott Disick and His Girlfriend, Amelia Gray Hamlin, Are 18 Years Apart in Age
While viewers kept up with the Kardashians on the family's E! show for 20 seasons, they've continued to stay posted on all of their respective love lives since the show ended in June of 2021.
When fans first met Scott Disick in the series premiere in 2007, he was romantically involved with Kourtney Kardashian. The two would go on to have three kids together and an on-and-off relationship until 2015.
Scott stayed close with the family, even when he began dating Sofia Richie in 2017, who is 15 years his junior. A few months after the two broke up in mid-2020, Scott began making public appearances with Amelia Gray Hamlin.
The two confirmed their romance months later, and they are currently a hot and heavy item. Like Scott, Amelia also has roots in reality TV.
Keep reading to find out more about Amelia and Scott's romance (Trigger Warning: Eating Disorder).
Scott Disick has been dating his girlfriend, Amelia Gray Hamlin, since the fall of 2020.
When Scott and Amelia got together, they were both newly out of other relationships. After a few months of being on-and-off,Scott and Sofia Richie broke up for good in the summer of 2020. Amelia ended her two-year relationship with Mercer Wiederhorn at some point in either the summer or early fall of 2020.
The father of three was first spotted at a Halloween bash with Amelia in October of 2020. About a week later, Scott and Amelia shared photos of food from the same restaurant on Instagram, which further fueled the speculation that the two were dating.
The pair didn't actually confirm their relationship until Valentine's Day, though Amelia had shared an Instagram story with Scott on Thanksgiving.
Article continues below advertisement
A few months after they went Instagram official, Amelia was there to ring in Scott's 38th birthday in May of 2021. She posted a tribute to her beau on Instagram.
"I love you," she wrote in part of the caption, which demonstrated just how serious the two had gotten in their romance.
When Amelia celebrated her 20th birthday about a month later in June of 2021, Scott gifted her a diamond-encrusted cross necklace and a signed Helmut Newton print.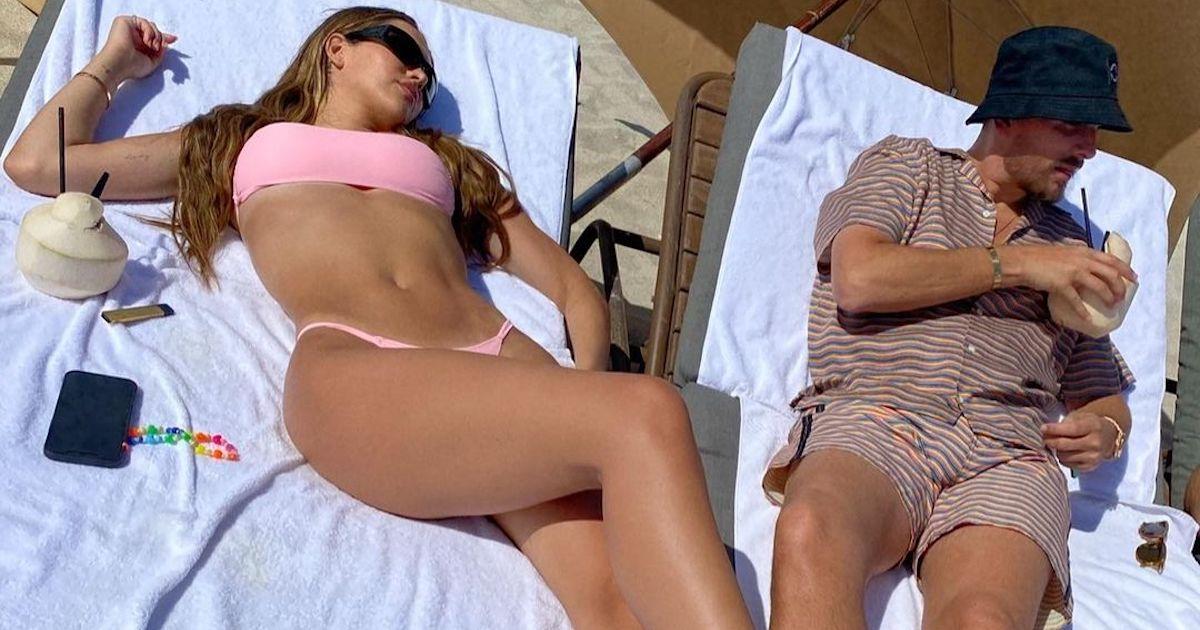 Article continues below advertisement
Amelia Hamlin's famous parents are Lisa Rinna and Harry Hamlin.
Scott's girlfriend is the youngest daughter of actor Harry Hamlin and The Real Housewives of Beverly Hills star Lisa Rinna. The two are also the parents of Delilah Belle Hamlin, and Harry has a son named Dimitri Alexander Hamlin with his ex-girlfriend, Ursula Andress.
Amelia appeared occasionally on past seasons of the Bravo reality series; she opened up about her eating disorder and her struggles with anxiety.
The 20-year-old has yet to make a cameo on Season 11 of the show, but she's still been a frequent subject of discussion. Her mom talked about the early days of her Amelia's burgeoning romance with Lord Disick with her co-stars.
She told Erika Jayne Girardi that the two initially started out as friends. Shortly after they attended the aforementioned Halloween party together, they began dating.
Article continues below advertisement
Lisa expressed her concern for her daughter because Scott is a high-profile figure and because many were critical of their significant age difference.
"I'm a lot nervous about it…" Lisa said. She then noted that Harry wasn't very concerned with the age difference, because his ex, Ursula, is 16 years his senior.
However, the Harry Loves Lisa star is pleased that her daughter's relationship is dominating the headlines instead of her eating disorder.
Article continues below advertisement
"Amelia has had her struggles in the press, but it's now a new headline," Lisa said during an interview confessional. "No one is talking about the eating disorder anymore… as a mother, I'm like, 'Good.' This gives her another label to deal with."
Lisa will continue sharing her thoughts about her daughter's new label on The Real Housewives of Beverly Hills. The show airs on Wednesdays at 8 p.m. ET on Bravo.



View more information: https://www.distractify.com/p/scott-disick-girlfriend
Articles in category:
Wiki