New York's MR Architecture + Decor Goes for the 'Gasp'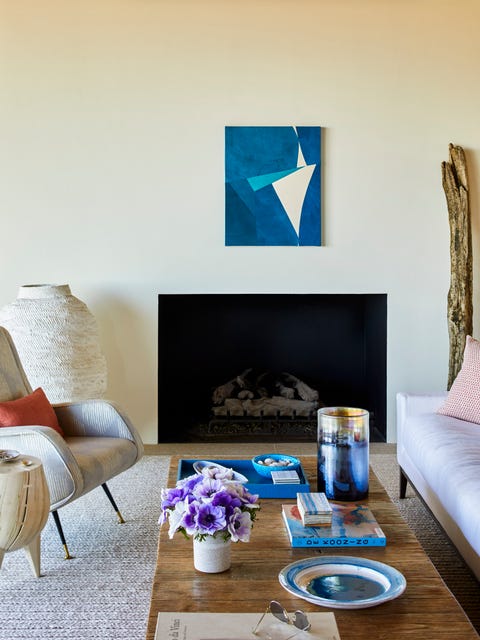 Last month, David Mann, the founder of MR Architecture + Decor, celebrated his firm's 20th anniversary with the release of a monograph published by Abrams. For a high-end design firm, bringing out a big, beautiful coffee-table book is par for the course. So the fact that MR Architecture + Decor is the very first compendium of Mann's distinctive body of work is surprising — even more so considering the sterling reputation he and the 30 people who work in his Chelsea studio have established.
"I think we're known for very upscale retail and residential work," says Mann. He has a professorial air, but he'd be the friendly professor who is tough on you for your own good. The formal rigor of his designs — most of which he creates for clients in the New York area, although the firm has worked all over the globe — demonstrates this.
If you want cornices and moldings, Mann is happy to oblige: He designed an appropriately shingled Arts and Crafts–style home for clients on Shelter Island, at the far east end of New York's Long Island. But MR has really made its name with thoroughly modern designs, often in a sleekly neutral palette that is sometimes shot through with an exciting blue or green. "I'm probably the last one to see the similarities among our projects, but they've been pointed out to me before," says Mann. "There's a certain streamlined, clean-lined look."
MR's work with dazzling sections of marble and rich custom carpets is noteworthy, the interplay of hard and soft exemplifying the exquisite balance in its designs. The firm's website is divided into portfolios of private and public projects, and although residential design constitutes the bulk of its work these days, MR has created some memorable retail schemes for such clients as Lanvin (under acclaimed designer Alber Elbaz), Christian Dior and Phillip Lim.
Manhattan's dear departed Takashimaya department store — an icon of style that was too good to live forever — was among the firm's first projects. The Fifth Avenue space gave Mann an opportunity to go for broke with a design for its beauty floor. "The client said, 'When the elevator doors open, I want people to gasp,' " recalls Mann, noting that those are welcome words to a designer. His response to the request? He cut an opening in the floor and surrounded it with 180 branches cast in bronze.
If Mann's residential work has a central organizing principle, it's that he defers to and foregrounds the stellar art collections that his clients are lucky and savvy enough to own. In a project for financier Rodney Miller, Mann had enormous freedom: He got to build a townhouse from scratch on an empty lot, an unusual privilege in Carnegie Hill. And that meant he could design spaces to highlight Miller's holdings of works by Glenn Ligon, Alma Thomas and Kerry James Marshall, among others.
"It has a limestone facade, bluestone flooring, and the ground floor opens all the way to the back," Mann says of the four-story home. "There are these beautiful, significant artworks — art is the real passion — but it's very spacious, very simple and not over-furnished." When it comes to furnishings, Hans Wegner is a go-to modernist master for Mann. For Miller's dining room, he installed a vintage sideboard, teak table and dining chairs, all by Wegner.
In an 1857 Greenwich Village townhouse designed by James Renwick, of St. Patrick's Cathedral fame, MR worked with Steven Harris Architects to create a beautiful white box with restored moldings to hold artworks by John Zurier and El Anatsui. The latter artist is represented by a wall-size sculpture of tiny metal squares — and as it happens, shimmering squares are a motif Mann returns to again and again in his own work, as in the pyrite cube knobs on the leather-clad cabinet he designed for the townhouse's dining room.
He also likes boffo light fixtures that can pop against a white wall, an effect he certainly got with Lindsey Adelman's Bursting Branch blown-glass fixture in the stair hall. It's treated like a piece of sculpture, and rightly so.
"There's a certain streamlined, clean-lined look," says David Mann, describing the aesthetics of the work his firm, MR Architecture + Decor, creates.
Mann and his team often design relatively quiet upholstered furniture, but in rich fabrics, to emphasize comfort and to let art and other objects in the room shine. In the model apartment in One57, a glamorous Manhattan high rise on West 57th Street, a taupe velvet sofa sets off Christophe Côme lights, sourced from Cristina Grajales Gallery and placed on a console behind it.
Most notably, the windows of the apartment have no draperies — the better to show off the views, the primary selling point of the urban aerie. Instead, Mann draped fabric partway up the Sheetrock walls opposite the windows and hung artworks on that. Not only does this hide utilitarian mechanical systems, but "it layers and warms the room," says Mann.
The designer infused the Park Avenue duplex of magazine editor Darcy Miller and attorney Andrew Nussbaum, for whom MR had done a previous home, with both glamour and comfort. He had the double-height foyer and stairs clad in a jazzily abstract design of stunning sections of greige onyx marble, and for the stair rail, he created a pattern of silver squares inspired by Jean Royère. Together, the sparkly materials helped enliven a relatively dark space with no natural light.
The living room of the Miller-Nussbaum duplex is echt Mann, a paean to the power of neutrality. The palette is silver, gold and white, with gold-leaf glass squares surrounding a fireplace flanked by two ghostly pale Paul Sunday paintings. A rock-crystal chandelier and a silk shag rug complete the look — manifesting MR's classic hard-and-soft contrapposto. "I think there is this combination of subtlety and glitz at the same time in this project," says Mann, providing a spot-on summation of what his firm has achieved over the past 20 years. "It's a hard thing to express, but I think it's true."
Purchase This Book
Or Support Your Local Bookstore
David Mann's Quick Picks on 1stdibs
Shop Now
"These sconces are like wall jewelry."
Shop Now
"This secretary is perfectly proportioned, displaying elegant wood grain and classical details."
Shop Now
"I can be pattern-phobic, but when it's good, I cannot resist."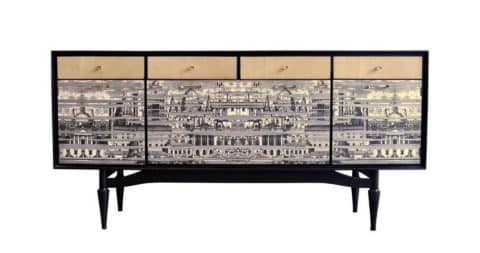 Shop Now
"This Fornasetti-like piece is lighthearted and serious at the same time."
Shop Now
"This is extraordinarily unique, with exquisite craftsmanship."
Shop Now
"Most desks are boring and predictable, but this one, with its floating top and side units, surrounds the user with great design and function."
Shop Now
"This African prayer stool becomes sculpture, with a perfectly patinated surface."
Shop Now
"The clever engineering of this lamp's outer shell and the perfect red give it a graphic quality, setting it apart from most others."
Shop Now
"These leather chairs look sexy and practical."
Shop Now
"This chair looks familiar and new all at once. All in all, a perfect form."
Shop Now
"This retro chair actually feels futuristic. It is high mid-century style."