Is Oprah Winfrey Wearing an Ankle Monitor? — Why Qanon Thinks So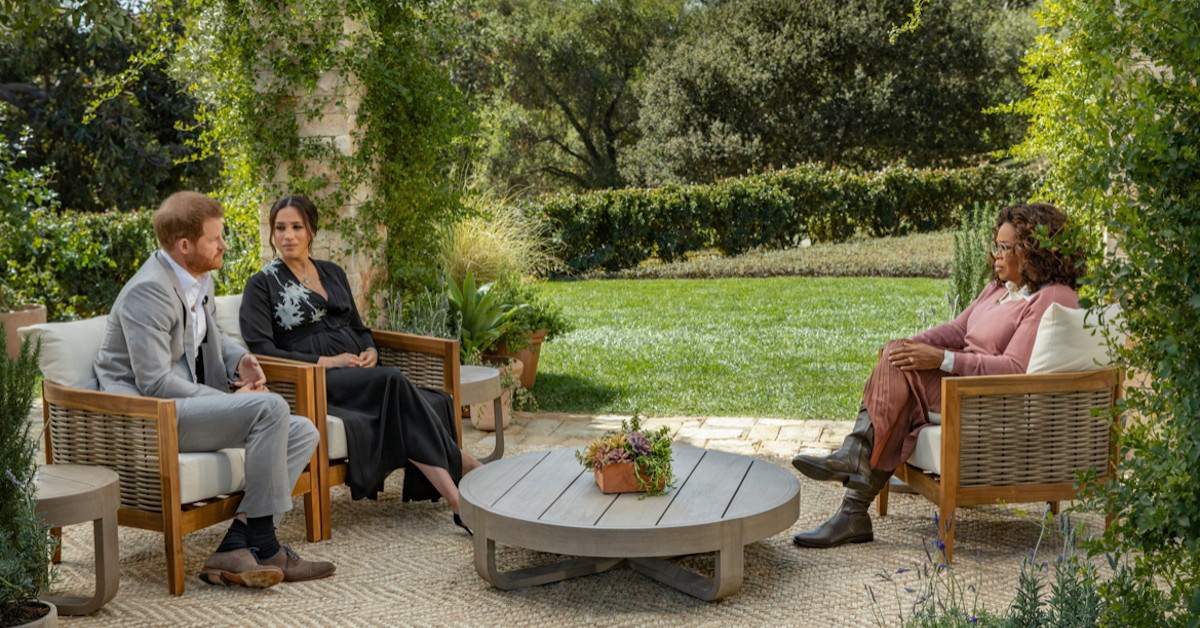 While the rest of the world was busy reacting to Meghan's revelations about her family's decision to take a step back from the monarchy, others were laser-focused on trying to see through Oprah's boots and discern whether she could have been hiding an ankle monitor. So, is Oprah Winfrey under house arrest? Where are these rumors even coming from?
Keep reading while we explain.
Was Oprah Winfrey wearing an ankle monitor during her interview with Meghan and Prince Harry?
"Oprah Winfrey has an ankle monitor on," one person remarked on Twitter, adding, "She aided Epstein and Weinstein in their pedophile ring. Open your eyes people." "Why is Oprah on house arrest again?" asked another. "The ankle monitor is still clear as day."
According to Newsweek, the messaging service app Telegram is where the rumor caught the most steam. We the Media, a popular QAnon channel in the app, with close to 200,000 subscribers, asked its followers to opine on "Oprah ankle monitor?"
"So obvious," replied user Roxanne F. "First few minutes she was strategically keeping both her feet behind the little table then got comfortable or forgot about need to conceal it [sic]." 
Article continues below advertisement
For the uninitiated curious to learn why Oprah would be wearing an ankle monitor while sitting across from the Duke and Duchess of Sussex, the belief among QAnon supporters is that Oprah is among the powerful celebrities who make up a massive child sex trafficking ring. 
As the theory goes, many of these powerful elite have been covertly arrested or confined to their homes, and believers of QAnon count Oprah as one of these culpable stars.
Article continues below advertisement
Oprah's far from being alone in these speculations: Ellen DeGeneres, Hillary Clinton, Barack Obama, Tom Hanks, John Mulaney, and Joe Biden have also been the subject of recent ankle monitor rumors. 
Writes The Independent, "QAnon followers believe that a cabal of prominent Democrats and Hollywood celebrities will be arrested and executed fulfilling a prophecy called 'the storm.' The ankle monitors are believed to herald that the process is beginning."
It's not the first time Oprah has found herself at the center of a QAnon rumor.
Almost a year ago to the day, on March 17, 2020, Oprah Winfrey issued a statement on Twitter after her name began trending on the platform. 
Article continues below advertisement
"Just got a phone call that my name is trending," she posted. "And being trolled for some awful FAKE thing. It's NOT TRUE. Haven't been raided, or arrested. Just sanitizing and self-distancing with the rest of the world. Stay safe everybody."
Following her tweet, Reuters's Fact Check team released a post calling the rumors of Oprah wearing an ankle monitor patently false. 
"These posts are inspired by baseless conspiracy claims," they wrote.

View more information: https://www.distractify.com/p/oprah-winfrey-ankle-monitor
Articles in category:
Wiki