Is Duff Goldman Still Married to Johnna Colbry? They Are Expecting!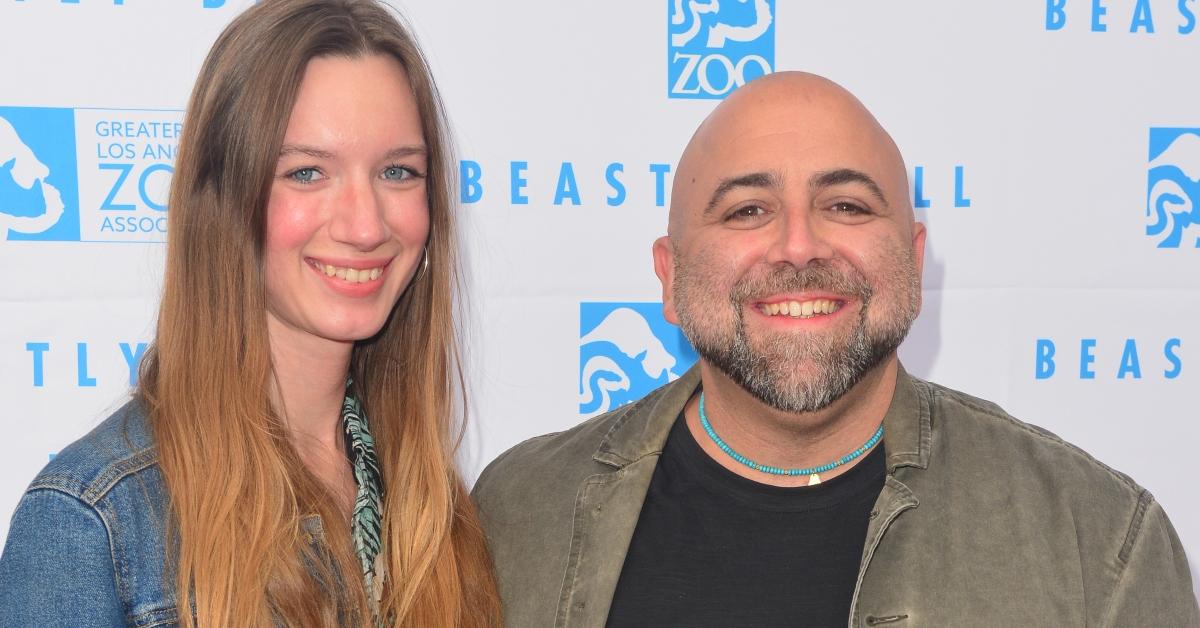 Food Network's Duff Goldman tied the knot with Johnna Colbry at an extravagant wedding ceremony held at the Natural History Museum of Los Angeles County in January 2019 — and they have been happily married ever since. They announced that they were expecting their first baby on Aug. 7, 2020, via an adorable photo posted on Instagram. 
Duff Goldman and Johnna have been together for quite some time now.
Duff and Johnna started dating a few years ago, after bonding over their shared love of everything arts- and cooking-related on Tinder — and the rest was history. 
"She is really well put together, […] She's stylish and beautiful. She's amazing. She's an angel. And I'm like a troglodyte," Duff jokingly remarked during an interview with Los Angeles Times.
Article continues below advertisement
Although they were dating for a few years, Duff made no plans for a proposal. Instead of spending weeks searching for the right ring, perfect restaurant, and grandiose gestures best-suited for the occasion, he opted for something a lot more fun and spontaneous.
As the star explained in an interview with People, it first occurred to him that it was time to take things to the next level while he was in the shower. He grabbed some butcher's twine shortly thereafter (to tie around Johnna's finger) and got down on one knee. 
"It was really weird. I was in the shower, I was shaving my head and it felt like a punch to my heart. It was just like, 'Boom! You're incredibly in love with this girl, you need to marry her,'" Duff told the outlet. 
Article continues below advertisement
After putting the makeshift placeholder on Johnna's fingers, Duff also offered to let her pick whichever ring she preferred. 
"I told her she could pick out any kind of ring she wanted […] and she went with a thin, very simple, beautiful band," he told People. 
They announced that they were engaged on Instagram on April 3, 2018.  
Article continues below advertisement
Duff and Johnna got married in January 2019, at a slick and stylish wedding ceremony attended by 250 guests. Held at the Natural History Museum of Los Angeles County, the reception featured a petting zoo, while guests were also allowed to engage with the exhibits on display at the majestic venue. 
For the reception, Duff created five cakes — including a trompe l'oeil sensation comprised of a meatball layer, a meatloaf layer, one made of lamb shawarma, and one made of scrapple. The cake was covered with a mashed potato frosting and roses made of bacon. For an added touch, they also served a chocolate fountain filled to the brim with gravy. Another one of the cakes was decorated with sugar sea glass, bubbles, and bright yellow sea dragons.
Article continues below advertisement
Duff and Johnna announced that they were expecting on Instagram in August 2020. As they revealed, Johnna's estimated due date is in January 2021. 
Many fans have taken it to Twitter to congratulate the happy couple.
"Congratulations Johnna that is so great I can imagine Duff's face when you told him he loves you so much," wrote one person. 
"Congratulations to you Johnna and Duff on your baby news," another fan said. 

View more information: https://www.distractify.com/p/is-duff-goldman-still-married
Articles in category:
Wiki